Braces By Vakani Orthodontics
Because of teeth imperfections, many people may need braces to straighten or fix their teeth. Common teeth problems include overcrowded, misaligned, and crooked teeth. Kids, teens, and adults of all ages use braces to correct cosmetic defects, prevent increased misalignment, and reduce the risk of oral disease. Vakani Orthodontics offers free initial examinations, multiple treatment options, flexible payment plans and accepts most dental insurance plans.
Braces for Kids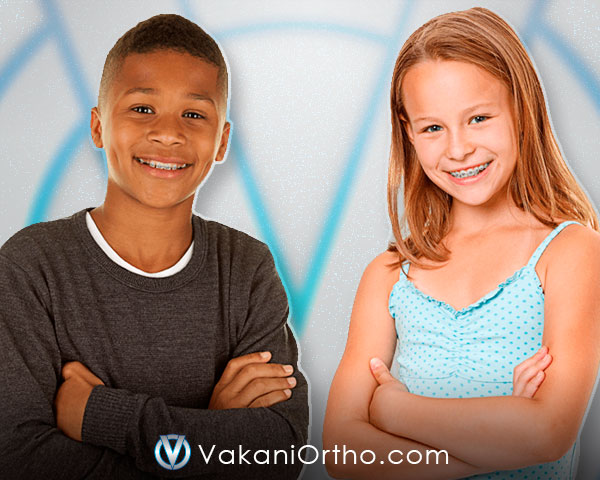 Dentists and orthodontists typically recommend braces for kids after an observation appointment. Before orthodontic treatment is started, the orthodontist examines the x-rays and analysis provided from the primary dentist. The orthodontist then evaluates the child's teeth using advanced examination techniques, and determines the correct orthodontic treatment that will be needed. The American Association of Orthodontists (AAO) recommends that kids visit an orthodontist by the age of seven.
Schedule A Free Observation Appointment
Braces for kids can include colorful and fashionable designs such as WildSmiles braces. The selection of different shapes and styles can help to make getting braces a more enjoyable experience, providing an element of fun along with function. Parents can set up a free consultation with Vakani Orthodontics to discuss appropriate treatment options, the cost of braces for their kids, orthodontic dental insurance, and financing before making any decisions.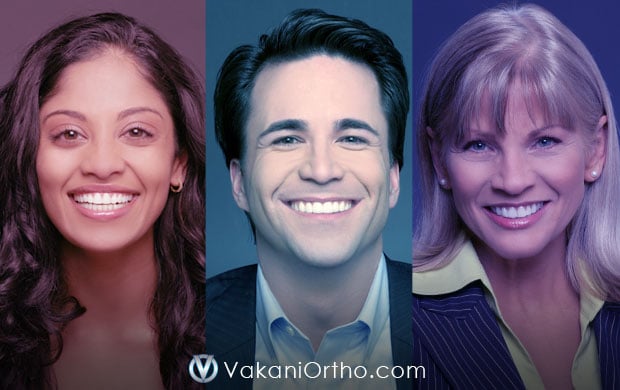 Braces for Adults
Adults get orthodontics for different reasons, either out of medical necessity or for cosmetic concerns. Over time, teeth can become crooked or misaligned, and adult braces become necessary. In some cases, adults may have needed orthodontics in pre-adulthood years, but did not get proper treatment, forgot to wear their retainer, or stopped treatment too early. Adults seeking orthodontic treatment will find that there are several options available, including alternatives to braces such as Invisalign, which are clear, invisible braces to keep treatment discrete.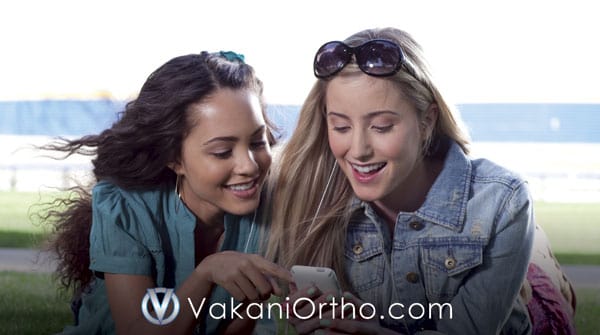 Braces for Teens
Teenagers have the options of either traditional or clear braces. In fact, "Invisalign Teen" is a specific line of clear braces for teens offered by Invisalign. For more information on treatment options, continue reading about the different types of braces offered at Vakani Orthodontics or schedule your first visit to begin the journey to straight teeth!

Types of Braces



Metal Braces (Brackets)

Braces are traditionally thought of as metal brackets by default. This common procedure of straightening teeth includes metal brackets cemented to each tooth. Metal braces are designed to hold secure and comfortable to teeth.

Braces Colors

Braces can have colored bands with customizable color schemes. These can be changed at each visit, and multiple colors can be used. Colored braces are just as durable and effective at straightening teeth, and can bring an element of fun to orthodontics!

Mini Clear, Silver, Gold

Mini braces have several advantages over standard metal brackets. Available in clear, silver, and gold braces, these mini brackets are around 30% smaller than traditional ones, making them less noticeable and more comfortable.

WildSmiles Braces

WildSmiles braces are a vibrant, fun alternative to standard metal braces. WildSmiles braces function the same as traditional metal brackets, while featuring exciting shapes and designs.

Invisalign (Clear Braces)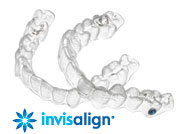 Vakani Orthodontics is a Premier Invisalign Provider in Martin and St. Lucie County. Invisalign treatment involves customized, removable, clear aligners instead of the traditional metal brackets. The aligners are strong, comfortable, and almost completely invisible, making them a favorable alternative to metal braces. Invisalign clear braces are especially ideal for adults who are in need of teeth straightening but would prefer to keep their braces discrete.

How Much Do Braces Cost?
The cost of braces will vary depending on individual needs and treatment plans. The orthodontist will discuss the different options available and the accompanying prices. Most all major credit cards are accepted for payment and orthodontic dental insurance plans are accepted to help reduce the upfront and overall cost of braces. A dental payment plan for braces can be set up and will be made clear before starting any treatment.



Free Braces Consultation
For individuals in the Treasure Coast, getting braces can be a pleasant experience at our state-of-the-art offices in Fort Pierce and Stuart, Florida. Vakani Orthodontics offers a free braces consultation for adults or parents with children who are looking to achieve straight teeth and would like to confer with an orthodontist. At this no-cost consultation, local residents in Martin and St. Lucie County can discuss treatment options, braces cost, payment plans and orthodontic dental insurance coverage.