Invisalign clear braces are an innovative and alternative way for people to straighten their teeth without the hassle and appearance of those traditional braces. Like traditional metal braces, Invisalign straightens teeth for a perfect smile. Unlike traditional metal braces, Invisalign is clear and offers a discreet solution for orthodontic problems. Since these braces are much more discreet than others, they are useful for both teens and adults in the Treasure Coast who are looking to achieve straighter teeth without the typical appearance associated with metal braces.
For residents of the Treasure Coast who are looking to achieve straighter teeth, Invisalign clear braces are a great choice. Invisalign braces can treat overbites, spacing, crowding, under-bites, and other teeth problems. The average cost of Invisalign is about the same as the cost of traditional braces. So, Invisalign clear braces should certainly be considered during the initial orthodontic treatment consultation, as advised by an orthodontist. Unlike traditional metal braces, these types of braces can be removed at the convenience of each person wearing them. While certain foods should be avoided for those with the traditional metal braces, those with the Invisalign clear braces have much less restrictions when eating different kinds of foods. Some foods that may need to be avoided for those with metal braces include popcorn, foods with hard crust, bagels, chewy candy, and more. With Invisalign, patients do not need to give up any of these foods in order to achieve straighter teeth.
Invisalign VS Metal Braces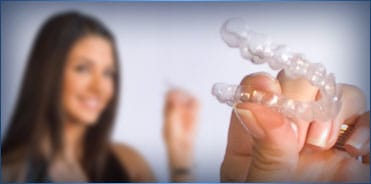 Many patients in the Treasure Coast choose Invisalign clear braces over metal brackets. Some adults may feel embarrassed about their crooked teeth and are looking for an alternative method to straighten their teeth without being noticeable. Since Invisalign clear braces are so discreet, these adults will not have to endure the embarrassment of wearing metal braces so much later in life, as opposed to the common trend with children. Both teens and adults in the Treasure Coast may also prefer the feel of Invisalign clear braces and the benefit that they are hardly even noticeable.
Invisalign Cost And Payment Plans
A beautiful smile is priceless. Residents in the the Treasure Coast area can achieve a priceless smile and afford it with various financing and payment options. The cost of Invisalign clear braces in the Treasure Coast can be determined during or after a consultation. Payment options and financing at Vakani Orthodontics make it easy for Treasure Coast residents to start Invisalign treatment. The upfront cost of Invisalign is much less when compared to the end result of an amazing smile and the numerous benefits. With clear braces, there is more flexibility to straighten teeth without the hassle. Aside from the convenience in the look and feel, Invisalign clear braces can also be healthier option for teeth and gums in some cases when compared to traditional metal braces.
Achieving a beautiful smile is not as difficult as some may think. Contact Vakani Orthodontics now to schedule a complimentary consultation at one of our state-of-the-art orthodontist offices in Stuart FL and Fort Pierce to discuss your Invisalign treatment and financing options.